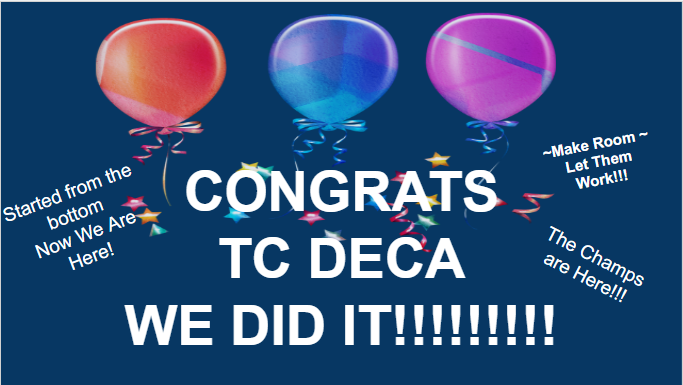 ---

Get the Edge

with

TC

DECA

DECA challenges you to GET THE EDGE in 2022-2023.

Whether in competition, on college applications or during your career search, DECA gives you an unmistakable competitive advantage.

When you join DECA, you participate in unique learning experiences that extend way beyond the classroom. You get to expand your network and sharpen your skills while working on real projects that benefit your school and community.

Get the extra boost you need to become a stand-out leader as you put your college and career goals within reach.

Get involved. Get noticed. Get the edge with DECA. (DECA Direct)

---

If you would like to join our

TC

DECA team this year contact

Mrs. Karim or any of our

TC

DECA Members.

Distributive Education Club of America

Advisor: Mrs. V. Karim

Room A209

Remind 101 Code: Text 81010 ~ Message:@tcdeca

Instagram:

@decatimbercreek
Check out our Business Website. Explore other business opportunities - such as Rutgers Business Program and soon to come Wharton Business School Program.